Portable Health Care on-the-go!
Wash hands regularly to stop the spread of germs
Travel Trio – Portable Skin Protection Hand Soaps & Lotion Spray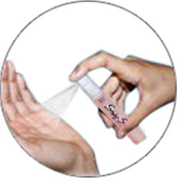 Travel Trio Skin Care Treatment
If you use an alcohol sanitizer always keep handy this Travel Trio – SoapStix Natural Hand Wash & SkinStix Natural Hand Lotion to help repair and replenish essential oils in dry crack skin and eczema. Over-use of harsh alcohol sanitizers will dry out your skin and strip off the good emollients that are necessary to help fight off germs.
Travel Trio, the life saver for your skin and health!
PORTABLE SOAP PROTECTION FROM FLU, COLDS and VIRUSES.
To help prevent one from getting sick they should always carry a SoapStix to wash their hands regularly. SoapStix for travel, public places and where there is no soap.
COMBAT GERMS ANYWHERE!