Portable Health Care on-the-go!
Wash hands regularly to stop the spread of germs
Travel Trio – Soap Sprays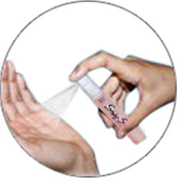 PORTABLE SOAP PROTECTION FROM FLU, COLDS and VIRUSES.
To help prevent one from getting sick they should always carry a SoapStix to wash their hands regularly. SoapStix for travel, public places and where there is no soap.
COMBAT GERMS ANYWHERE!