Protect yourself, co-workers & your family with the Frontline Protection Kit
A non-profit organization should introduce the campaign partnership to their supporters and corporate partners, by placing the campaign banner link on their corporate web site and sending out an email announcement to their database. When supporters of the campaign click on the Banner Image, they will be directed to a signup form where they can register and received their exclusive PROMO Code. Funds are raised every time the non-profits exclusive PROMO Code is used at the shopping cart.
Once registered, your organization will receive your exclusive PROMO Code and Banner image.
Each time this code is used to purchase products on our website, your organization will receive 20% of the retail price as a donation to the charity, paid monthly with a report of all the transactions.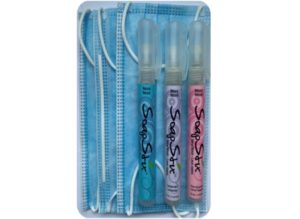 Stix Brands International understands the policies of non-profits, and that a partnership is not considered an endorsement of the product, and any liabilities are the total responsibility of Stix Brands promoted products. An accurate description of the offer will be made available to the public, with the CAUSE having the right to an accounting of the program results.
To join the fundraising program and learn how it can help your organization contact Michael Morris at 416-230-6181