Personal protection for your health, family & co-workers
The New Healthy Way to Well Being...Naturally
With the spread of germs and viruses, we have available the Protection Kit for frontline workers and for all who are now going back to a new normal for everyone's personal protection.
The Frontline Protection Kit consists of a portable natural SoapStix Hand Sanitizer spray. It is also ideal for spraying on public surfaces that could be contaminated, for example shopping cart handles, door knobs, key pads, and much more. The alcohol will instantly kill germs on contact.
The kit also contains 2 all natural portable SoapStix Hand Soap spray for washing hands, anywhere! With the spread of germs and viruses it is vital to wash hands frequently. Now you can avoid touching any contaminated public soap dispensers by using your own portable soap. The SoapStix is formulated with all natural ingredients. It contains Extra Virgin Olive Oil & Coconut Oil to help clean, heal and moisturize dry cracked skin from over-use of chemical petroleum based industrial pink soap.
The third items in the kit are 3 medical Face Masks that are now becoming mandatory to wear everywhere. They can be used to prevent  yourself or anyone from getting sick, where possible airborne contamination may occur.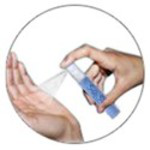 Portable Sanitizer, Soaps & Masks